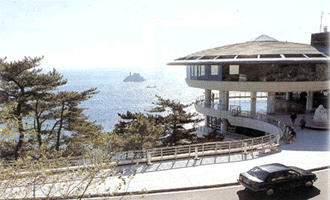 At Taejongdae park, over 200 types of trees including pine trees and camellias line the beach and rocks of fantastic shape surround the peak, 250m above the sea level.
Taejongdae was a place where Taejong Muyeol, the Silla king who united the three countries to form Korea, took pleasure in shooting with a bow and arrows surrounded by the scenery we found so beautiful.


Here is unparalleled scenery harmonized with fantastically-shaped rocks eroded by water, surging waves, and subtropical forests. Sinseonam, an uplifted coast under the lighthouse and the most beautiful in Taejongdae, was formed 120,000 years ago. The present Taejongdae was formed after the forth, that is the last, thawing epoch by the intermittent rising of the ocean floor. Therefore the significance of Taejongdae lies not only in its scenic beauty but also in the natural history of Busan and its ocean.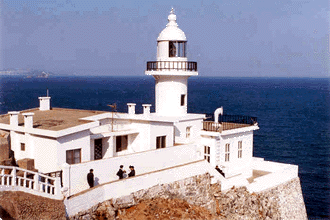 In times of drought, Dongraebusa, a government official, offered prayers for rain at this place. Rain which falls down particularly on the 10th day of 5th lunar month is called Taejong rain. Located at the southernmost tip of Busan, 9.1km along the Yeongdo coast from the City Hall, Taejongdae as 540,2350 §³, and reaches a height of 250 m. It is complete with steep fantastic rocks and 200 stocks of trees including beach pine, camellia, and sasrepi trees. On a clear day you can see Daemado. A number of poets and men of letters have visited this place. This site was declared a resort park in 1967 by the Ministry of Construction, and later, in 1969, designated as a tourist resort. Since then it has been developed on a full scale. The building of a circulation road of 4.3 km long surrounding Taejongdae, started in 1970 was completed after 3 years, and readjusted in 1974. When a Taejongdae development plan was decided on in 1973, the resort was renovated and charged fees were introduced from 1976 on.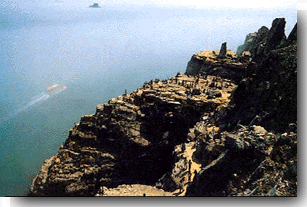 The beauty of steep cliffs, breaking waves, and close forests are unequalled. Driving along the circulation road will lead you to the observatory and the Mother and Children Statue. You can see Oryukdo nearby and Daemado at a distance. The coast road from the City Hall to Yeongdo Bridge or Busan Bridge is a popular driving course. Taejongdae is a resort favored by tourists with its fine view of Sea of Korea.